Wold Top Brewery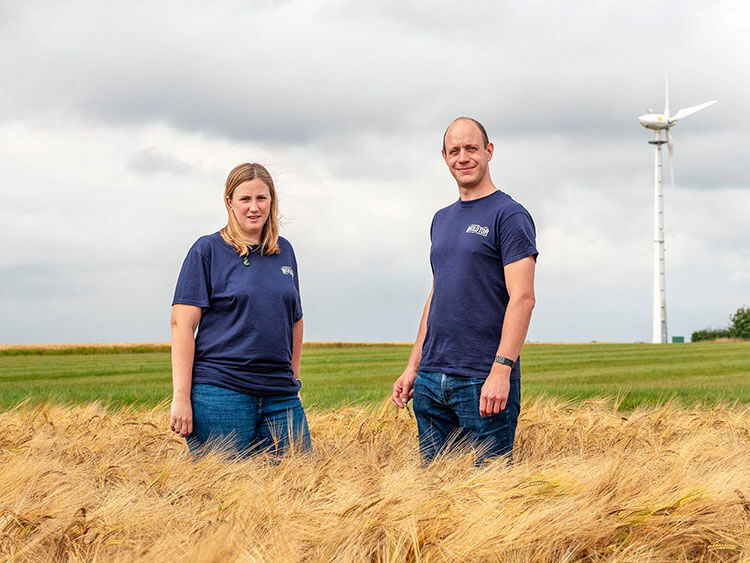 Our job doesn't get any better than visiting an award-winning brewery and chatting with a good friend. Add in a sweet treat of an Ale Brownie made with their very own beer along with a cuppa, and we're sold! More about those delicious brownies later.
This September morning, we find ourselves at Wold Top Brewery on the fringes of the Yorkshire Wolds countryside. It's the same chalky land that we farm on, and just a short trip away from our Wolds farm, but a little nearer to the stunning coastline where the chalk cliffs spectacularly plunge into the North Sea.
We're here to meet Kate Balchin, who has for the last ten years taken over the day to day running and development of her family Brewery, along with her other half, Alex. Hunmanby Grange Farm is a beautiful and other-wordly spot where Kate and her family live and work, and we did take a moment or two out of our busy Monday to stop and capture the landscape.
It's this landscape that really drove the Mellor family to find another way to sustain the family farm that they had farmed since 1945. The malting barley that they have been farming for over half a century gave them the ideas and the confidence to diversify and is crucial to what they do now. East Yorkshire has had a long and great history of supplying the Scottish whisky industry with their malting barley, and the quality has always dictated a great end product. In addition, the water for their beer is sourced from a bore hole on the farm, which provides pure, chalk filtered water which is perfect for brewing. And with it making up 90% of your pint, it certainly helps that it is! Just add yeast and hops!
The farm was already growing a heritage brand called Maris Wigeon which was good for milling, but over the years their expertise grew and they didn't just mill what the trade saw as good for the job, but listened to their customer base, including the millers and bakers, and also their feedback from the farmers' markets they attended, and new varieties were discovered. This love of conservation, coupled with forward thinking continues today, as Mike is a founder member of the Yorkshire Grain Alliance trialling the growing of diverse grains for the group. Bakers and millers (and Mike and Kate!) are keenly awaiting harvest and their aim is to inspire more farmers in the area to grow these grains for them. Watch this space!
Kate's parents, Tom and Gill saw their first beer produced back in 2003 with just two beers on offer – Wold Top Bitter and Falling Stone. Fast forward to today and the family have been in the brewing business for 18 years – with the Brewery now reaching the legal drinking age! In the beginning they solely supplied casks to pubs who were keen to support a local Yorkshire business and the appetite was strong. They started small – beer is measured in barrels with around 164 litres / 36 gallons in each barrel - and they could back in the day produced10 barrels with the kit they had. Very soon this doubled, and then in 2015 they doubled this again, now having a 40 barrel capacity per day, but there's always capacity to grow this further and very quickly. Soon after the brewery was set up, they introduced a hand bottling line, but found this very labour intensive and it wasn't long before the family had to invest in a bottling line in 2007 as the bottle market grew, and continues to this day.
Timing in the early days was crucial to getting their beers on the bars of the Yorkshire pubs, and when they first started, independent breweries were few and far between with about 250 in the whole of the UK. Today there are around 300 independent breweries in Yorkshire alone. Yorkshire is now known as a county that prides itself on its offering of small, independent business like ours, breweries are no exception either.
In fact, it was the pull of Yorkshire that brought Kate and Alex back to her family farm. Kate had studied languages at Oxford Brookes University where she met Alex who was studying Biology there. Following graduation, they both went travelling and on return Kate's parents asked if they would like to get involved with the hands on running of the business. With no pressure and knowing a citycentric life was not for them, they jumped on board. Both of them wholeheartedly rolled their sleeves up and worked across all areas of the business, which means today they can fully relate to the roles their passionate team take on today.
"Today they have 8 core beers, along with a good number of seasonal and limited editions that have appeared along the way. Their fans are loyal and really know their beer so there's always the opportunity to be creative and inspire this enthusiastic following. At the beginning of this year they added 12 limited edition cask and bottled beers, all with Viking inspired flavours and names, each being released monthly across the year.
So where does the future lie for this forward-thinking family? They are still very much about brewing beer in a cask for their fans to enjoy, but the expansion looks very much to be based on bottles and retaining the loyalty of new and old customers who now enjoy buying directly from the Brewery and allowing them to try something new. Like our own business we've both seen a huge rise in returning customers who have stayed with us since finding us during lockdown and continuing to enjoy what we as small, independent producers provide. Offering cask subscriptions was suggested by one of their customers, and with each mail out featuring both seasonal and core beers, they are proving popular with beer lovers getting on board with this great gifting idea and trying something new.
Currently they are in the process of training new brewers and finding new ways of working that will allow both Kate and Alex to step slightly away from the day to day running of the business and allow them to focus on the bigger picture and grow. One of the ideas they would love to take forward would be to set up a tap room that would be more accessible than the rural location of the Brewery Bar they have on the farm which they currently use for their popular Brewery tours.
As we ended our chat we wanted to talk about the importance of local food and drink, the regionality and how it fits with their brand and their own Yorkshire story. Kate has always championed Yorkshire, her family and ancestors' home of choice, and understands their customers appetite for what they have to offer. Provenance is now more than ever featured highly in customer wish lists and has been totally revived over the last years. Local customers can't get away from the fact that food in their area is produced by farmers, and the sustainability and carbon neutral initiatives that the business is fully immersed in cannot be ignored.
Wold Top's brand message is strong, and their vision simple. They want to make great tasting beer, using home grown and sustainably sourced ingredients for the rest of Yorkshire and the world to enjoy. And we very much look forward to seeing what this home loving country girl with the love of sea and her passionate team get up to in the future.
Ale Brownies with Ale & Marmalade Frosting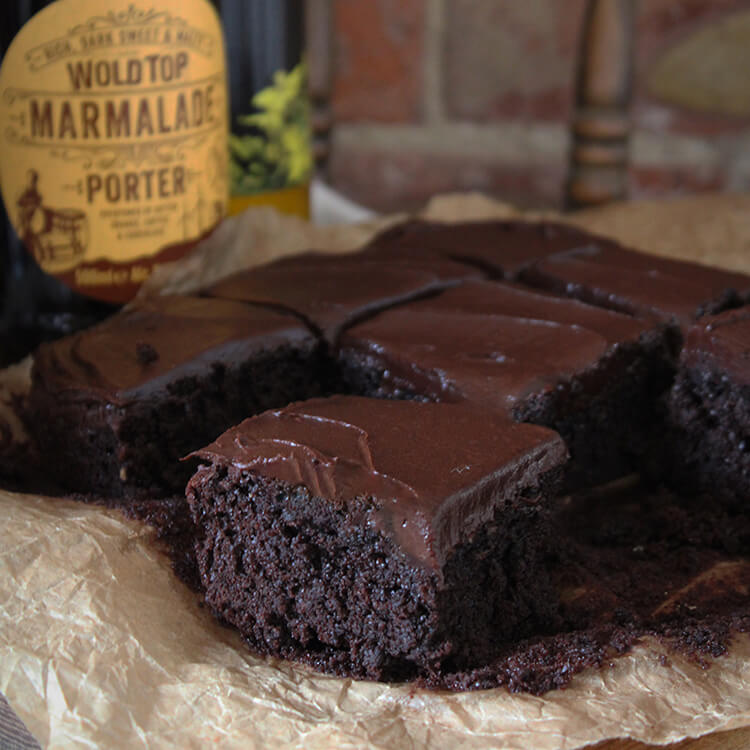 To celebrate British Food Fortnight from 18 September to 3 October 2021, Yorkshire Rapeseed Oil collaborated with Wold Top and produced four new comfort dishes perfect for Autumn, inspired by four of Wold Top's most popular beers. One of them is an Ale Brownie with an Ale & Marmalade Frosting, using the Brewery's Marmalade Porter. here.