CHARITY OF THE YEAR 2022 ANNOUNCED
Thank you for all your votes to nominate our Charity of the Year for 2022. We've counted all the votes (nearly 1.9k of them!), and we are proud to announce that the winner is Ryedale Special Families. Congratulations to them, and thanks to everyone who took the time to vote for their favourity local charity.
We'll provide an update on our plans when we meet them in March, so do watch this space and across our social media feeds to see what we get up to! Here's just a little about the work they do, and what we will be supporting them with in 2022.
Ryedale Special Families
This independent charity began in the early 1990's when a group of 20 families of disabled children started to meet in their own homes in order to share challenges and experiences, as well as offering mutual support to each other. Although they have grown significantly since those early years, their fundamental principles have not changed. Today they support the families and young adults with disabilities, additional needs and illness throughout Ryedale, and their work falls within four areas – information, advice and guidance, social groups, 1 to 1 flexible care and family activities. The charity have managed to buy a plot of land and are looking to raise £1m to enable them to build new premises so they can expand the range of services they currently offer across the region.
https://www.ryedalespecialfamilies.org.uk/
2021 FUNDRAISING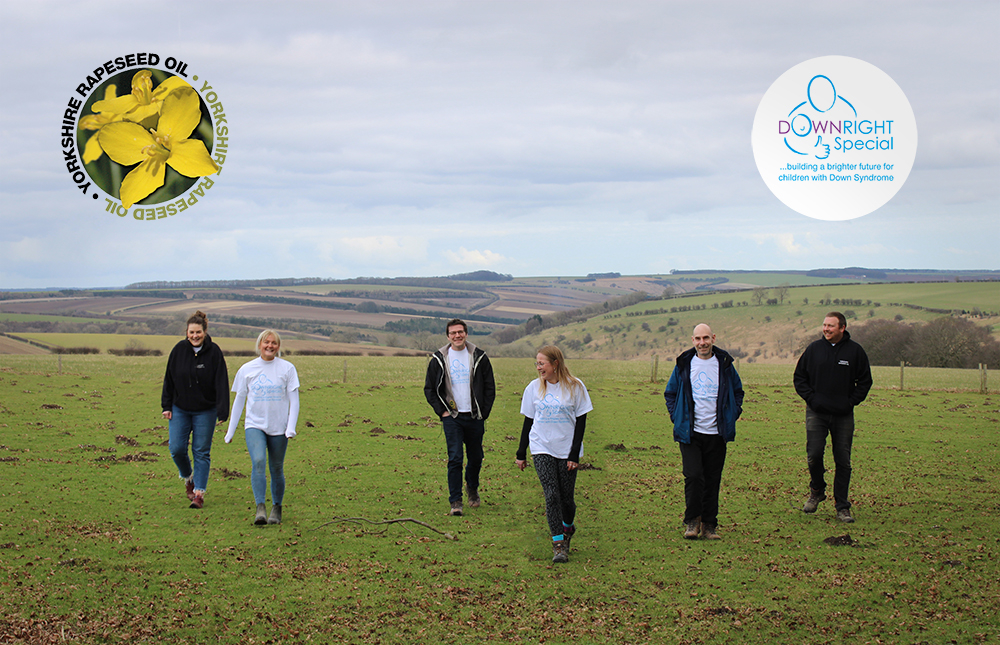 Donate to our Charity of the Year to our Virgin Money Giving Page
This sends every donation directly to Downright Special
Let us introduce our Charity for 2021 and they are Downright Special! This amazing charity supports children with Down syndrome in Hull and the East Riding. They were our chosen charity for 2020, but as the year did not go to plan for anyone, we've decided to support them this year and look forward to doing our bit to raise funds and support them this year.
The charity originally started in 2007 by a group of parents, they set out to provide support to each other and any other parents who had children with Down syndrome. This quickly developed into an organised group giving emotional, practical and educational support to families from birth onwards. They do this with no funding from statutory agencies, like the local authority or NHS.
We popped to meet them on one of their weekly Special Fridays Groups where their specialist team and valuable volunteers hold a play and learning group, and at the same time bring families together. We saw first-hand the bond between the children and the team and it was such a positive experience - we could have stayed all day! They work with small groups and focus on speech and language skills whilst having fun sessions too. We even learnt some Makaton sign language whilst there!
The support they provide is second to none, and changes with every stage of their development, from new parent packs distributed on maternity and neo-natal wards, to an outreach service for schools and nurseries, and training for both professionals and parents.
Their goal is simple – to build a brighter future for children with Down syndrome. We've already made a start on our fundraising to support them and we can't wait to see where 2021 takes us.
We Walked 500 Miles!
Our first fundraising challenge took place in Down Syndrome Week in March this year. We thought this would be the perfect week to kick off our 2021 fundraising support. From 15-21 March, some of our team members took on a 500 Mile Challenge, where we walked, cycled or ran 500 miles collectively as a team. Not only did we smash our 500 mile target in steps, but we also raised over £4,000 whilst doing so. We'd like to thank everyone who supported our fundraising across the week - your generosity was overwhelming.
If you would like to donate at any time we've set up a Virgin Money Giving Page which sends every donation directly to Downright Special.
Thank you!


2019 FUNDRAISING
In 2019 we supported Nice2BNice, a small, Hull based charity working as part of the Life for a Kid Foundation. Set up 5 years ago with the aim to help children in need in the Hull and East Riding area through different services, to date they have helped hundreds of children and their families. Providing sensory rooms and the support of a therapy dog for disadvantaged children is just a couple of the ways in which they do it. Lewis The Therapy Dog is registered at Hull Royal Infirmary and visits the children's wards on a weekly basis to provide comfort and support to all the children in what is a scary environment for them.
We had a great time supporting them with a donation from the sales of our Limited Edition Yorkshire Blue Cheese Dressing, and we held a Charity Beer Festival where we had huge and generous support from local business sponsors and beer drinkers alike! Over £2,700 was raised to support this charity to bring more smiles on children's faces! 2017/18 FUNDRAISING
2017 was the first time we chose a dedicated charity to fundraise for. We decided to support a new local charity through 2018, Our B.O.Y.'s Fund, after one of Charlie's school mates developed a rare renal tumour. The fundraising total has just been counted up and we're delighted to report that we raised a total of £1,200 which will go to help children affected in the same way as Ben. We can also very happily report that Ben is now clear of the disease.
We had great fun taking part in the Yorkshire marathon as part of a relay team, and York 10k, although it was rather warm! Not only that, 35p from the sale of each bottle of our Limited Edition Lime Oil was also donated to the charity.
Previous to this we had great fun fundrasing for another fabulous charity, Candlelighters. Jennie and Ben's Mum, Lucy meeting up to handover the totals and celebrate the good news!