Our History
The Early Years
Adam had grown up working on his grandfather's farm, farming was in his blood. He helped at all available opportunities and at the age of 16 moved to North Breckenholme to work on the farm whist attending agricultural college. Following the death of his grandfather Brian in 2002, Adam took over the tenancy at North Breckenholme Farm.
Fast forward a few years and good friends sat around a pub table and discussed the need for farm diversification. For small farms like us diversification is a must, the question was – what to do! This conversation slowly developed into a plan to explore the possibilities of cold pressing oilseed rape to use as a fuel alternative on the farm. After much investigation the route forward was decided on. Cold pressed rapeseed oil would be our future! Plans started to build a new facility on the farm to house the project.
2008
2008 was a busy year! Construction started on our oil shed, the press was purchased and slowly plans came together. During this time, we discovered what a fantastic oil we had and plans for it becoming a fuel source faded as the quality and versatility of the product was discovered.
Adam met with Paul, Jennie's Dad, to discuss taking a product to market as a quality culinary oil, and from these conversations our first label was designed and Yorkshire Rapeseed Oil was born.
Adam and Jennie attended their first ever farmers market in the December of that year selling their newly bottled cold pressed rapeseed oil. The product went down a storm and they signed up for the monthly market immediately!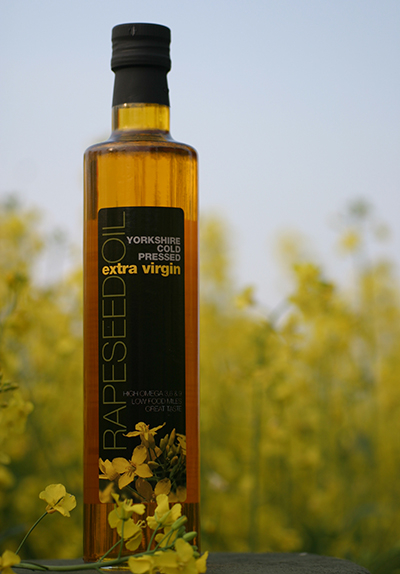 2009
Initially our oil was only sold as a 500ml natural oil. However, we had made up a variety of flavoured oils for people to sample just to show them what they could create. It soon became apparent that people wanted to buy these flavours ready mixed, so the favourites were developed alongside some help from the fabulous James Mackenzie of the Pipe & Glass Inn, and our 'originals' range was launched.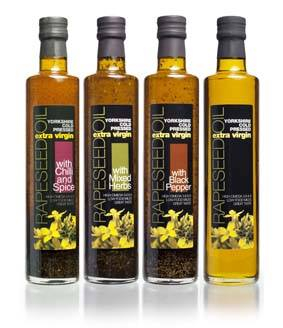 Whilst attending more farmers markets we realised that the opportunity to let customers refill their bottles was there. From then on at all of the farmers markets we attend you can refill your bottle of natural oil and get your loyalty card stamped at the same time!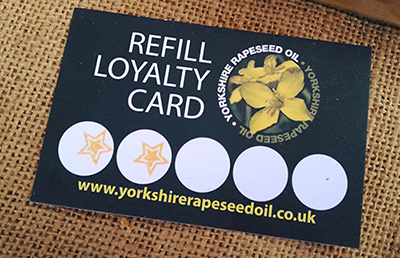 2010
As the market and awareness of rapeseed oils benefits grew, so did the need for a fuller range of products. In the spring of 2010 Jennie and Adam worked on developing several new products which launched that summer. After being approached by a number of delis for a smaller bottle of oil, ideally suited for hampers and gifts as well as for people to buy themselves to use at home, the 250ml 'deli' range was created. Alongside that four dressings were launched with a real Yorkshire theme to them, using Yorkshire Rapeseed Oil, Yorkshire honey, and other great ingredients sourced from Yorkshire producers. These new additions officially launched at our first ever York Food Festival, and we still attend today.

With an ever-growing passion to create delicious Yorkshire products, and following a meeting the previous Year with the Chilli Jam Man, work on two new dressings began. Our first collaboration 'Smoked Chilli Dressing' and our Fennel Seed dressing were launched that summer. Later that year we trial launched two of our Yorkshire Mayonnaises.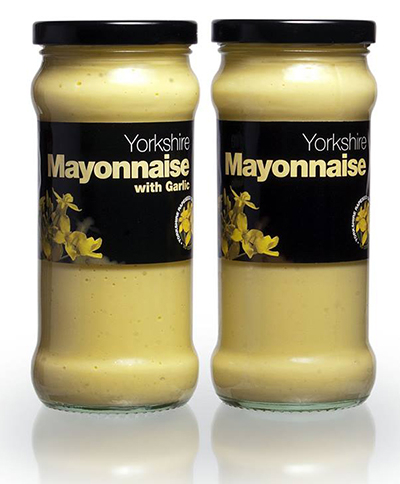 2012
Christmas 2012 saw our 'taste of Yorkshire' event hosted at the Robert E Fuller Gallery in Thixendale. A small but perfectly formed event showcasing the brilliant local producers based in and around Thixendale. The event was great success and a following bigger event was organised by the gallery the following summer.
2012 also saw us pick up our very first Great Taste Award for our Yorkshire Rapeseed Oil, and our first ever time at the BBC Good Food Show. It was here that our new 500ml labels came into the public domain.
2012 was also the first year we won a Great Taste Award! Take a look at our awards page to see how our products have got on since then!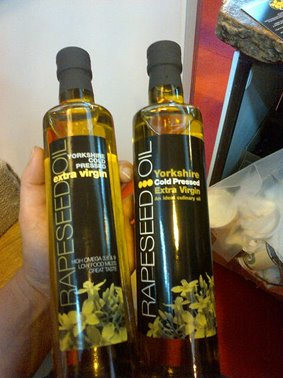 2013
Local friends and organic farmers J. Stringer & Sons approached us with the view to pressing their organically grown oilseed rape. The first time a British organic rapeseed oil was produced. It is still available on our website for those customers wanting an organic option.
This was the year we were also lucky enough to feature on the front of the Yorkshire Post magazine!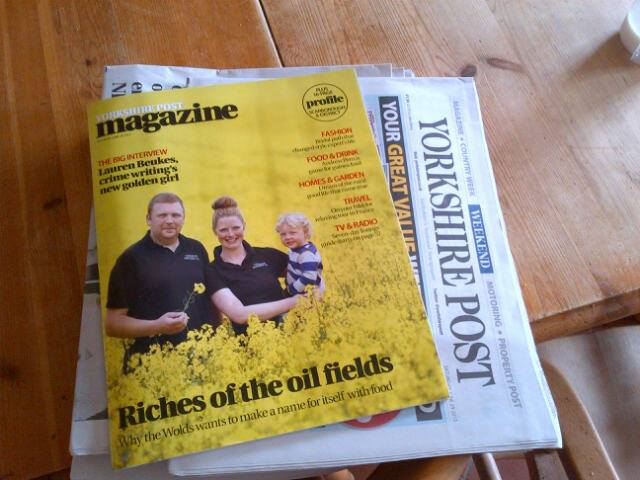 September 2013 saw the redesign of our mayonnaise range, moving it into a sleeker more stylish jar, and the addition of our still popular Lemon Mayonnaise.
2014
The year we discovered how wonderful smoking oil could be! After much product development with the fellow local producer Justin Staal we came up with our delicious oak smoked rapeseed oil. Our Smoked oil went on to win a number of awards and is still one of our best-selling products!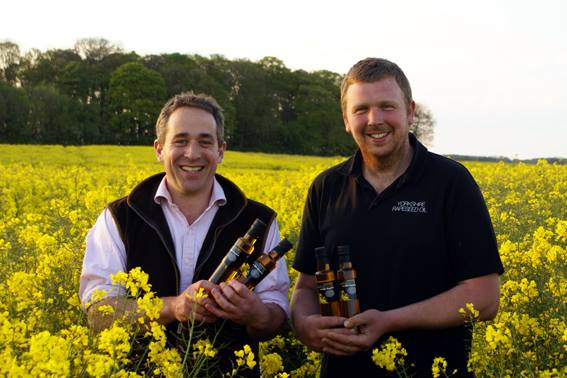 Another huge launch in 2014 was our very own recipe book! Launching that October at Beverley Festival of Food and Drink. The book was the work of Angie and Paul, Jennie's parents and is packed with over 100 recipes using Yorkshire Rapeseed Oil products including guest recipe and foreword by James Mackenzie of the Michelin stared The Pipe and Glass Inn!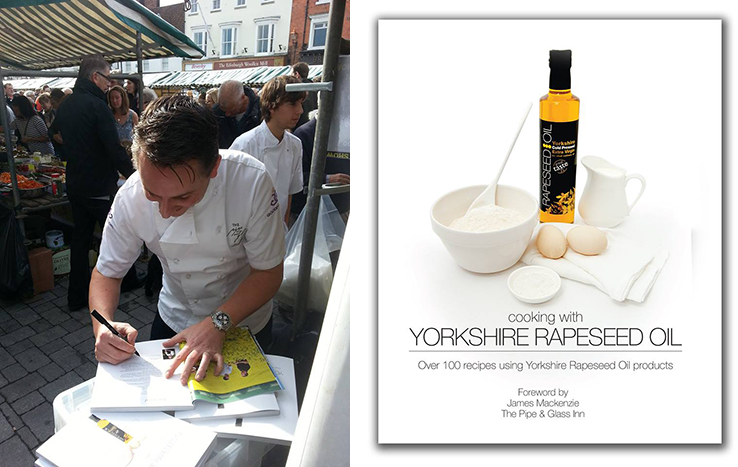 Also, the year that YRO hit the South – with Adam's sister Zoe taking our products to several of her local London markets.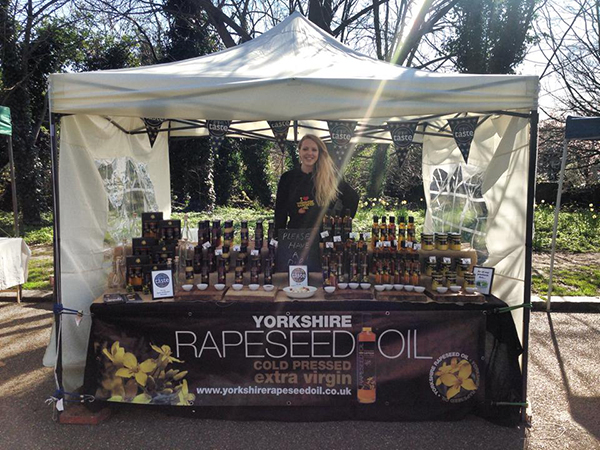 2015
Due to popular demand in 2015 we looked at developing our mayonnaise range. In May that year we launched our Yorkshire Mustard Mayonnaise, made with delicious mustards from Bracken Hill and our Smoked Mayonnaise made using our award winning smoked oil.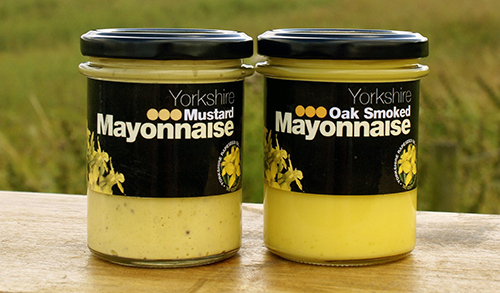 This was also the year Adam was lucky enough to be introduced to HRH Prince Charles whilst exhibiting at the Great Yorkshire Show!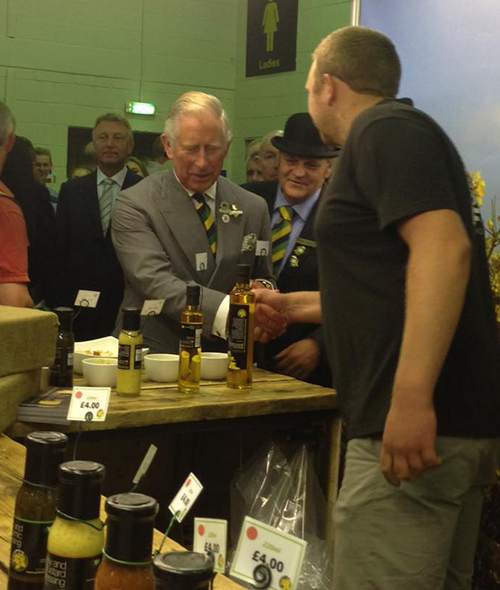 2016
In July of this year we launched our brand new limited editions concept. With the view that we could seasonally bring our customers something a little different. In 2016 our limited editions featured our Lemon & Poppy Seed Dressing, and our Yorkshire Hollandaise.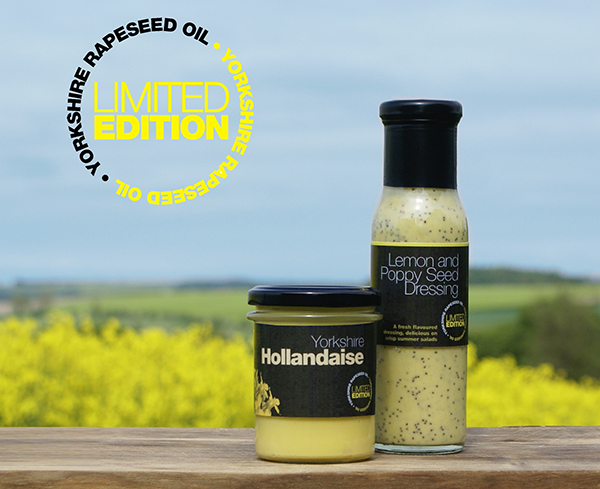 2017
After a few years of fundraising for different charities, in 2017 we decided to focus our fundraising efforts on just one local Charity. Our B.O.Y.'s Fund is a fabulous charity we are proud to have supported. Set up by a local mum our B.O.Y.'s Fund supports research into rare renal tumours of childhood. In total we managed to fundraise £1200 for the charity, by taking part in various events and donating 35p from the sale of each bottle of our Limuted Edition Lime Oil.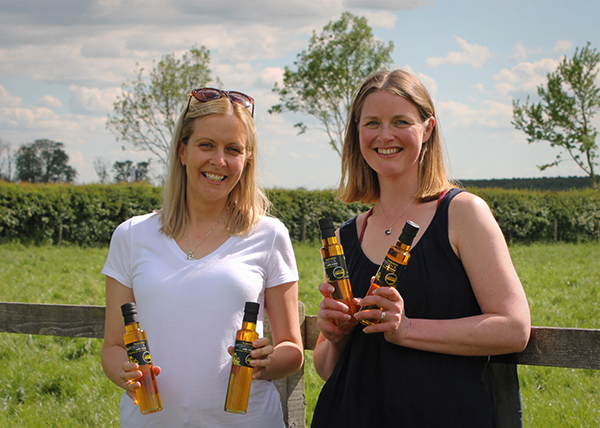 2018 - celebrating our 10th year!
This year, like the others was a busy time! We launched our new website with more tasty recipes, more information about what we do here at YRO, and the option to build you own gift sets and hampers. We appointed our team of taste testers, our carefully selected team of foodies help us out when it comes to bringing new products to you.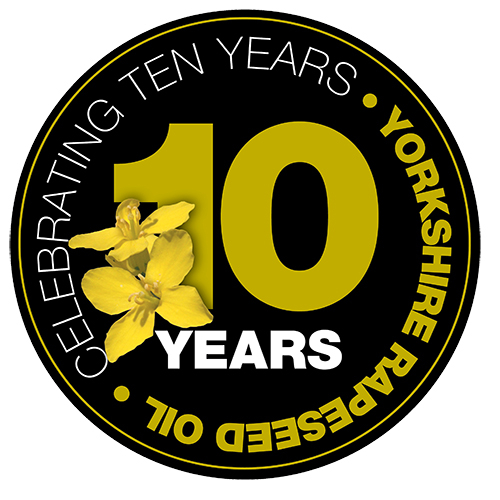 2019
Amongst many things, 2019 saw us support our 2019 Charity - Nice 2 B Nice (part of Life for a Kid), and launch our new limited edition Yorkshire Blue Cheese Dressing. Made with Shepherds Purse 'Yorkshire Blue' it was not only delicious but also helped us raise money for this fabulous charity. 35p from every bottle went into the fundraising pot. We also held a Charity Beer Festival in July to boost the charity funds, and with the help of a generous list of sponsors (and a great number of beer lovers!) the total raised for the charity was over £2700 which will have helped put a lot of smiles on the children in need in Hull & East Yorkshire.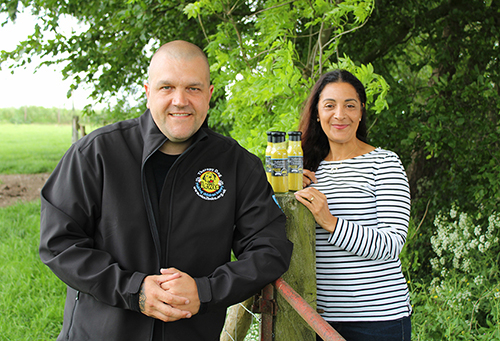 2020 - 2022
2020 – 2022 No one was prepared for what came in these two years, and as a brand we had to adapt quickly and think on our feet. Throughout lockdown we saw amazing and very humbling support from all our customers, whilst also attracting new online customers from further afield.
Lockdown gave us the opportunity to look at what we offered from a new perspective, and we have certainly been kept busy over those past two years. Our first step was to introduce our 'bundles' seasonal and topical collections of products with recipe booklets, perfect for the increased interest in home cooking.
In 2021 we launched our EAT Yorkshire campaign, along with 11 other amazing local producers we dedicated March to being the month we all collaboratively celebrated Yorkshire food and drink. This returned in 2022 with 17 producers on board, and an amazing buzz!
The same year we launched our 'Yorkshire Stories' series to share stories of those people we collaborate or work with, and those we admire greatly, and we also continued to work alongside local charities to fundraise. Our biggest step came at the beginning of 2022 when we launched our brand-new refreshed look to our logo, and our bottles and jars. Alongside this we re-worked recipes and launched new products. EXCITING TIMES TO COME Looking back and writing this timeline has been a delightful opportunity to reflect on the past 14 years since we sold our first ever bottle of Yorkshire Rapeseed Oil, but one thing remains the same. Everything is still 100% made by us here on our farm on the Yorkshire Wolds and everything is made with the base ingredient of our Great Taste Award-winning Yorkshire Rapeseed Oil.
With our business being a family affair, and a passionate team behind us, grown from family and friends, this allows us to continue to keep our brand close to our hearts. The future for us is to continue to cold press our oil, and to look to building a more sustainable future with our full team behind us.
All of us here at YRO HQ would like to take the opportunity to thank all our customers, stockists, friends, and of course, family. Without all of you none of this would have been possible.