THE STORY OF OUR OAK SMOKED YORKSHIRE RAPESEED OIL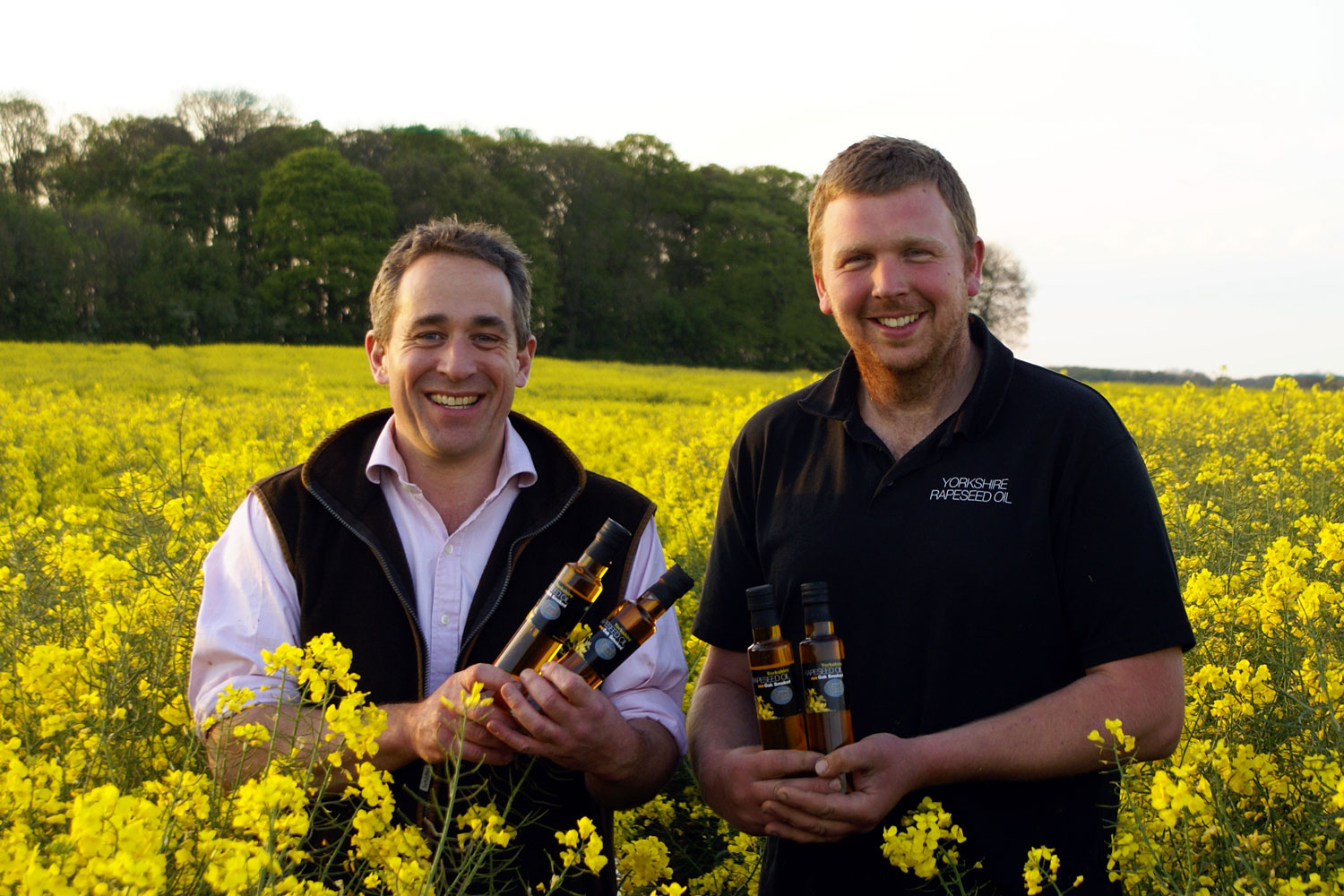 Justin & Adam back at the launch of the collaboration in 2014!
Working collaboratively is hugely important to us, and we're particularly proud of our journey with Staal Smokehouse and the products we create with them. Did you know that our Oak Smoked Yorkshire Rapeseed Oil that they smoke for us has just scooped a Great Taste 1 Star Award for 2022? It's this fabulous oil that also goes into our Oak Smoked Yorkshire Mayonnaise too!
It was back in 2014 when we first launched our Oak Smoked Yorkshire Rapeseed Oil, and this multi award winning Oil has been coveted by you ever since.
Our story with Justin of Staal Smokehouse goes way back. Back in 2011 Adam and Justin both met whilst both showing their wares at markets and foodie events, with Staal Smokehouse, who are based near Beverley, only recently opening its doors and our fledgling business having only 3 years under its belt. With Adam and Justin's passion for food and having their farming diversification journeys in common, their friendship developed. It was the perfect collaboration working together to add a smoked oil to our range. Staal Smokehouse have been expertly smoking our oil since 2014.
Many hours were spent with Adam and Jennie, Justin and Georgina, taste testing various levels and combinations of smoke. To smoke our Oil with the flavour that you know and love, Staal Smokehouse take our Yorkshire Rapeseed Oil and smoke it over oak and apple wood. It takes a lot of hours to smoke our Oil to get it to the right level of flavour that makes it award-winning.
We knew it would be an asset to our oils range, as this family-run basis are dedicated to delivering the finest products. Starting with the very best quality of produce, much of it locally sourced, they adhere to traditional curing techniques have been honed and perfected over hundreds of years knowing that it makes the difference. Their delicious selection of hand-smoked fish and poultry are truly artisanal. You must check out their website.
It was Justin's worldwide travels that helped set him on this path – including spending a decade working in a niche sector of the luxury travel industry arranging bespoke high-end holidays for avid fly fishermen and women. This work took him from Russia's Kola Peninsula to the sand flats of the Seychelles, satisfying an extreme passion for fishing. We're delighted that Justin satisfied his wanderlust and ended up in East Yorkshire, lovingly creating the most luxurious of products, and smoking our award winning oil.
Oak Smoked Yorkshire Rapeseed oil, our most awarded product!
2014 & 2022 – Great Taste Award Winner
2014 – Great British Food Magazine, Farm produce Awards
2014 – East Yorkshire Local Food Network Awards
Plus our Oak Smoked Mayonnaise, made with this delicious oil scooped the 2017 Yorkshire Life Food and Drink Award.