ROBERT E FULLER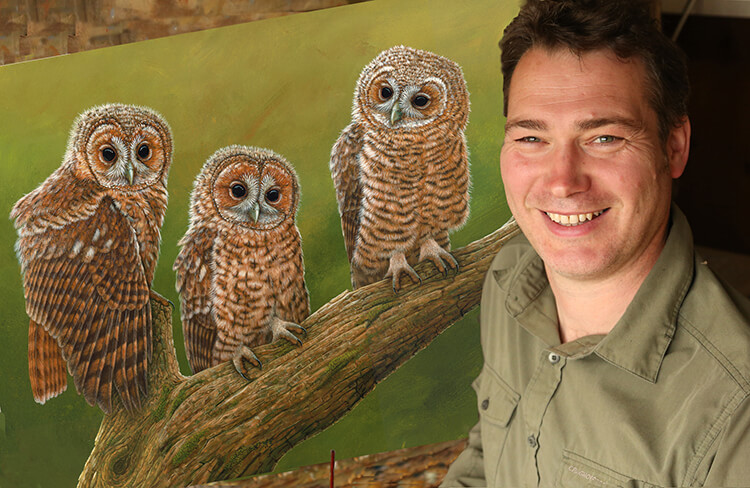 Our Yorkshire Stories this time don't take us very far, just a trip across a field or two to our neighbour, Robert E Fuller. Robert is a world-renowned wildlife artist who runs his acclaimed gallery at Fotherdale Farm. His gallery houses a stunning collection of his artwork and allows a rare view into the wildlife of the Yorkshire Wolds and far beyond. Each year, up to 12,000 people visit his gallery and as a recognised authority on wildlife, he often appears on television and has a regular feature column in the Yorkshire Post.
Both Adam here, and Robert have chosen to make Thixendale their home. A small, traditional and community driven village in the most stunning of settings with its dry, chalky valleys, Thixendale is much loved by walkers and nature lovers alike. It's a bit of an undiscovered gem, but year on year its popularity grows, which is no surprise to all those that have already discovered it.
But that's not just where their paths cross. Both Adam and Robert have grown up in the area and their shared passions for the natural world have been shaped by their lives on the farm.
Robert's father was well known for his conservationist approach to farming on a commercially successful farm and that has always stuck with Robert and very much feeds through all he does. After a time leaving the area to study wildlife illustration in Carmarthen College of Art & Technology and exhibiting his paintings to an ever-widening audience in Europe and his beloved Yorkshire, once he met and married his wife, Victoria, he settled at Fotherdale Farm.
Like the farm here at North Breckenholme, Fotherdale Farm has changed considerably over the years. In 2001 Robert applied for a rural enterprise grant to convert the redundant farm buildings into the beautiful 60ft beamed gallery and adjoining workshops that you can see there today. And at North Breckenholme we've also made changes to house our production unit, and also to convert buildings into an area for our Farm Discovery Days where we invite school age children for free, bespoke outdoor adventures on our farm. All the projects have been sited to not obstruct the wonderful views of the area, and we always consider the natural surroundings we are lucky enough to live and work in.
Increasingly, Robert's animal portraits feature creatures that live in his garden and the surrounding area of his home, and there is always a story behind the wildlife paintings that Robert creates. He spends so much time watching and photographing the animals in their natural habitats, before applying his distinctive and precise painting style to create the life-like portraits that hang on the walls of the people who are lucky to own a painting or two, including ourselves! This area is a haven for wildlife and Robert films the stories of many of these animal families via surveillance cameras. If you pop over to his website you can even watch these stories unfold on over 100 live footage cameras.
Adam and the farm team work closely on the farm to maintain some of the wildlife habitats that Robert films and captures through wildflower planting and hedgerow planting. Part of this is to ensure we have 2 metre margins along the hedgerows on our arable land to encourage the insects, birds and small mammals that nest, feed and lay in the hedges and low ground. Many of which may be the stars of Robert's filming! Whether that's the resident barn owls, tawny owls, kestrels, stoats and weasels.
There's a lot that links Adam and Robert and whether that's wildlife conservation, regeneration or education, the one thing that truly runs through as a common thread is their passion for what they do and making home the place to make it all happen.
If this has intrigued you to want to find out more about Robert's work, why not visit the Gallery to find a full range of artwork and giftware, or visit the website to link up with the live cameras and find out more about the Yorkshire Stories behind his wildlife adventures.
WATCH LIVE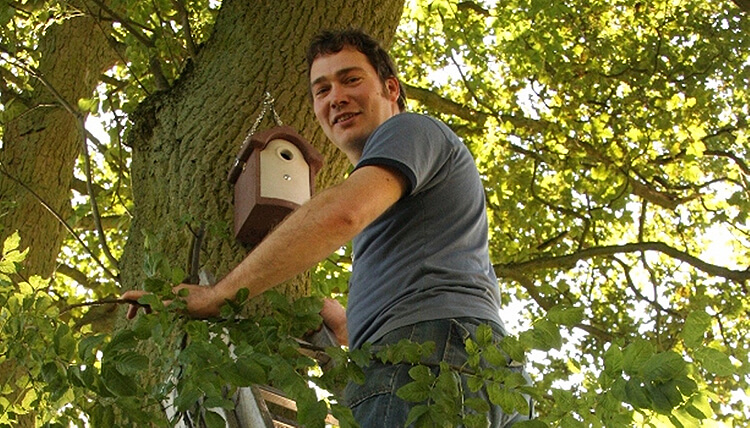 Watch Robert's live camera from Fotherdale here: LIVE FROM FOTHERDALE
Watch Robert's live camera from Ash Wood here: LIVE FROM ASH WOOD