Masons of Yorkshire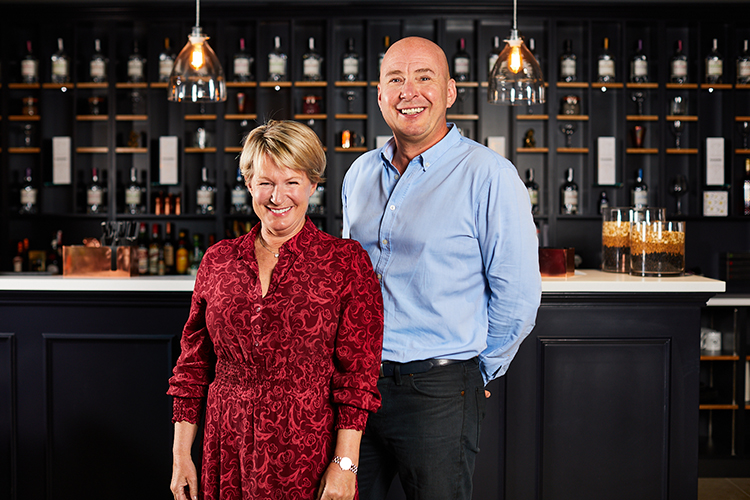 Talk about perks of the job! One morning armed with cake (always!) we took a road trip to Bedale to visit Cathy & Karl Mason, good friends and founders of Masons of Yorkshire.
Cathy & Karl may have told their story time and time again, but we know how much they like to share, so we started at the beginning. Karl explained that twelve years ago he had never ordered a glass of gin, but as a couple they had gone along to a friend's house and offered a G&T and they both really liked it! Karl having a self-confessed obsessive nature, decided to start buying gin and looking into the spirit further. He set up a 'G&T Friday' community Facebook page for fellow gin fans to share the love – what they were drinking, where and how, and over a very short time the page grew to 10,000 followers which made him realise there was a gap in the market for a gin made in the heart of Yorkshire. They decided they had had enough of Karl sitting on his laptop for hours on a Friday night with fellow obsessives (despite the free gin!), and after drinking a very dull glass of gin one day, Karl commented he could do better, so Cathy set the challenge, and knowing he'd need a companion on what could be a 'silly' journey, she decided to get involved too.
At this stage, nobody in Yorkshire had a pot still (used to hold and vaporise the botanicals when distilling) so they went to work with a small distiller in Cambridgeshire who had one of the smallest pot stills and they helped nail the distilling process and get them off the ground. They first put the pot still in premises, not far from home, but very quickly had to move and find a larger site, all the time with no distiller, it really was an upward learning curve for them both. It's widely known about their disastrous fire back at the distillery in April 2019, but 2020 saw new beginnings with them in the new customer-built distillery and with a beauty of a new copper still, called Tony!
One thing they did know from the start was that the branding had to be strong. They worked with a designer with their original concept, but the Masons brand sang out loud and clear! The 'Mason' family crest was adapted with a Yorkshire Rose and the identity of Masons of Yorkshire Gin was born. Today the Yorkshire Rose is on the bottom of their new shape bottle. That nod to their heritage won't ever be lost. Did you know that it was originally going to be called Drystone!
We wondered how they formed their signature recipe and their own combination of botanicals and found out this was purely based on their own favourite choices. They wanted to have a strongly identifiable flavour, and not just a different label. This had to be a different gin. They blind tested different recipes on friends but most sessions ended up with well imbibed friends who claimed they liked them all!
So Cathy & Karl sensibly went with what they preferred. As we all know, you can't please everyone! Cathy tended to be drawn towards a sweeter taste with the Original being her favourite, with Karl preferring their Tea flavour (made with Yorkshire Tea, of course!) and all in all a drier blend. They also felt the recipe had to come from them, as if you are fully 100% behind it, your passion will show and that will speak volumes.
The two Lavender and Tea flavours were developed to show the true backing of Yorkshire, and they also use pure Yorkshire water to make all their gin. The connections are strong. This year has seen three Special editions to keep their followers excited! With new label styles that are striking but complement the main range. We're in!
Talking Yorkshire, we always ask at our interviews what they think makes Yorkshire such an abundant larder and gives it its strong connections to food and drink, and Cathy was quick to share that it's the people, the farming community, the need for no frills, but quality all the same. We all heartedly agreed that we are blessed with the area where we all live – with the county covering coastline, cities and countryside. We were keen to find out if the Yorkshire branding had been a big selling point for their brand. Like us, we are so proud of our links to the county, it just had to feature. Cathy thought the popular Mason surname helped, and the Yorkshire Rose opened conversations, particularly local ones, in the early days but now it is the gin that did the talking.
So since launching on National Gin Day back in 2013, it's been a pretty epic journey with the business moving to even larger premises and now having a team of over 30 people, many locally based. We wanted to find out what had been the biggest change led by growth – was it industry led, or something else? Cathy & Karl had started off with no knowledge of how to sell gin, work with stockists, bars and restaurants, or the major retailers, so they learnt on the job. Their first large event was the Country Living Show on home ground at Harrogate. This got them off to such a great start and they were able to communicate their passion, brand and great gin to a large audience and get valuable feedback too! So, they made the decision to concentrate their efforts into attending shows across the length and breadth of the country to grow the brand, and back in 2019 attended 120 shows per year, supplying over 150,000 samples annually! As with our own brand when people meet you face to face it's a physical connection to the brand – they get a little bit of you, we find out a little bit about them and it's powerful! We so need to get back out there!
There's been lots of talk about the boom in gin and the loosely held perceptions of only being drunk before dinner by expats and older women, and we chatted about how that journey has been for them, but what we really wanted to get to know was an insider opinion on the 'next big thing' in the drinks industry. Cathy shared rum was still being discussed, along with tequila too. Though no boom will be as big as gin as it's such a versatile spirit and perfect for so many cocktails. With the cocktail making trend showing no signs of going anywhere, we're certain it will be here for some time!
Each had different highs on their journey. For Karl it was showing off the gin at the British Ambassador's Residence in Paris, and for Cathy it was a rather personal moment, remembering the escalator ride with her daughter in Harvey Nichols, going to see their bottles sitting proudly on their shelves. There's nothing like seeing your results of your hard work on the shelves anywhere. We know how she feels.
After such a wonderful day talking all things gin with this warm and hospitable pair, and our favourite people in the world of gin, we realised that everything they do has their loving and caring touch. It's just the Masons Way.
Cathy's Yorkshire meadow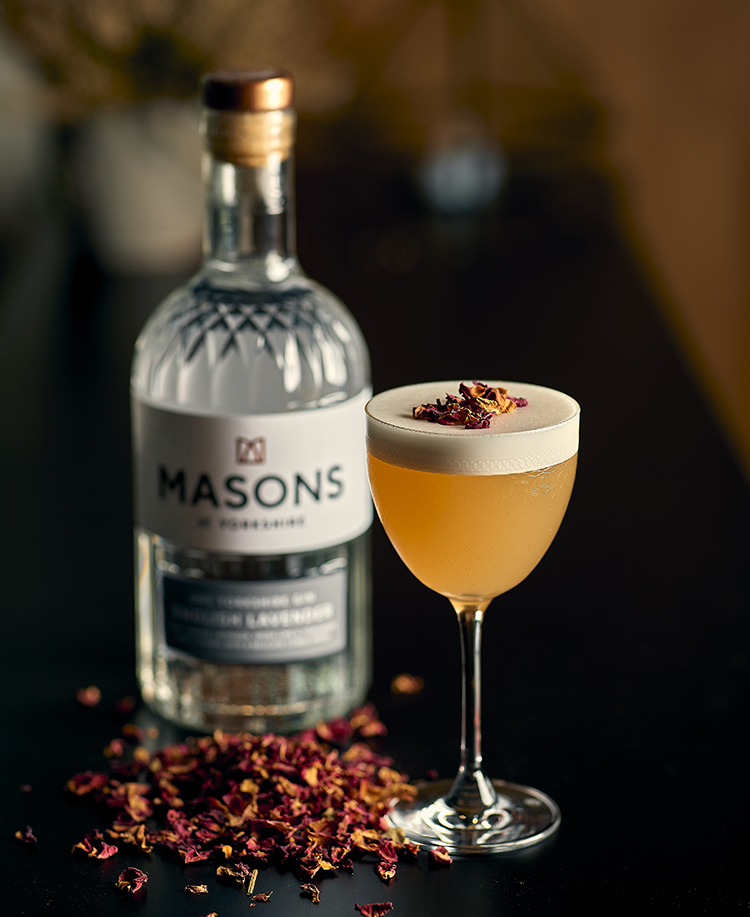 Designed by Mrs Mason herself, this cocktail is the epitomy of summer. Using Masons of Yorkshire English Lavender Gin, this cocktail is reminiscent of our very own Limited Edition Lemon & Lavender Gin Dressing made with their award-winning gin!
Ingredients
50ml Masons of Yorkshire English Lavender Gin
20ml Lemon Juice
10ml Jasmine Syrup
40ml Cloudy Apple Juice
Add all ingredients to a cocktail shaker and shake until mixed. Next, add ice to the cocktail shaker and shake again until chilled. Fine strain into your glass and top with rose petals. You can use a foamer to make this cocktail for the professional frothy top. Fancy!