BAKING WITH YORKSHIRE RAPESEED OIL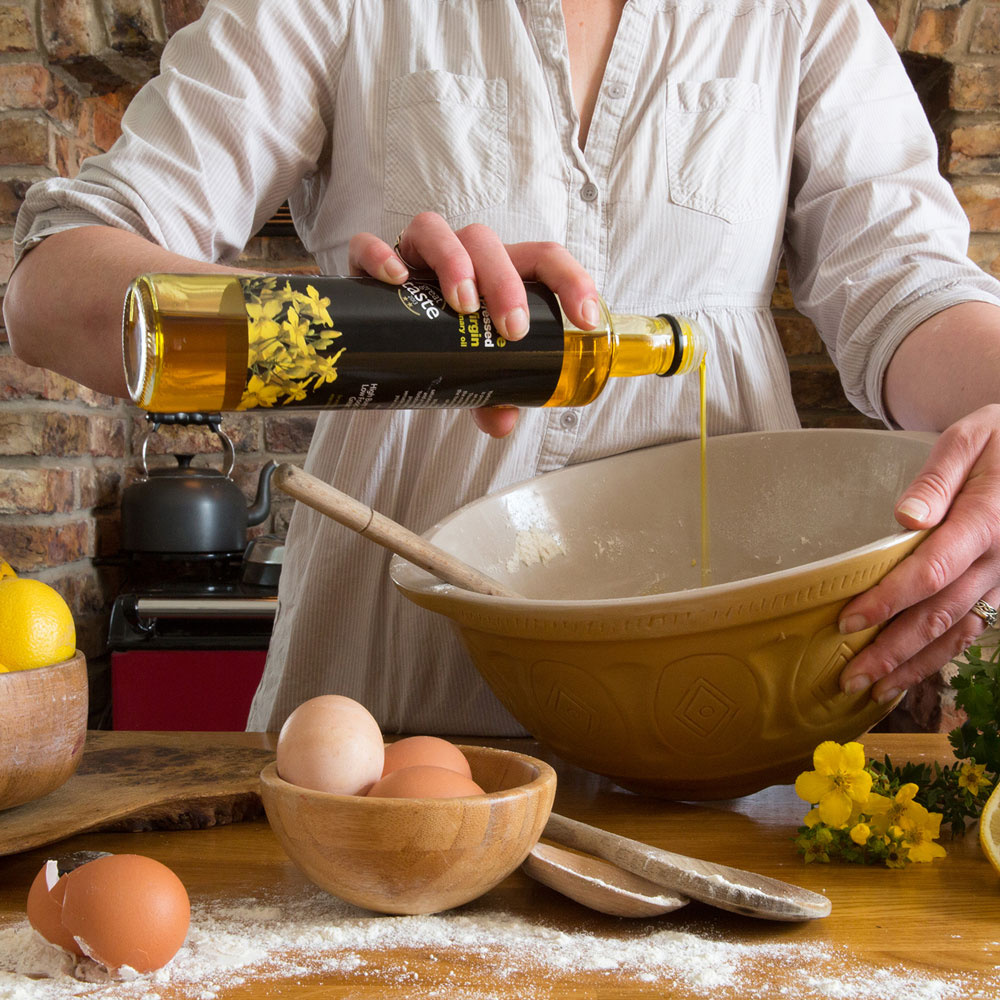 We love a good bake at YRO HQ. We're lucky enough to have a number of willing and amazing bakers amongst the team to keep our tea breaks and team fuelled by sweet treats. There's one thing all our bakes have in common (besides them being delicious!) – they are all made with Yorkshire Rapeseed Oil. We've been using it for years, of course, but how can it make a difference when baking in your kitchen? Here's our simple guide to baking with rapeseed oil.
Does rapeseed oil make for an easy bake?
It certainly does! Most of our baking recipes are all-in-one recipes, that use just one bowl! Great for speedy bakes and even better when washing the dishes! No rubbing in method with butter and flour, or creaming together butter and sugar. Keeping it all super simple and quick too!
Can I use rapeseed oil instead of butter?
Yes! Rapeseed Oil can simply replace butter in many a baking recipe. We always find our bakes benefit from being moist and lighter in texture, and tend to have a longer life so don't have to be eaten immediately – though they usually are! Cake, biscuits, pastry, scones, bread – our Yorkshire Rapeseed Oil can do it all.
Is rapeseed oil vegan friendly?
Our oil is suitable for vegan and vegetarian diets so comes in handy when baking for everyone to enjoy! And great for those dairy free baking recipes. Our dairy free pastry recipe is so simple to make, and tried and tested many a time. There is no need to store it in the fridge before rolling and rapeseed oil makes it easy to combine. The result is a very light pastry, ideal for quiches, pies and tarts.
What does rapeseed oil taste like when baking?
Rapeseed Oil is known for its mild, delicate and pleasant taste that is ideal for baking as it will not overpower other flavours. Yorkshire Rapeseed Oil has a slightly nutty flavour, made unique from the chalky soil of the Yorkshire Wolds.
Is baking with rapeseed oil healthy?
Not just a delicious addition to any bake, let's chat about the health benefits of baking with Yorkshire Rapeseed Oil. Our oil has the lowest saturated fat of any oil or butter so makes a great alternative when baking. Cold pressed rapeseed oil is mainly made up of monosaturated fats. Let's call these the 'good' fats as they promote healthy cholesterol levels, and we should be looking for these rather than saturated or trans fats. These can cause all kinds of health issues, including raising blood pressure, cholesterol levels and increase the risk of heart attacks. Our oil contains less than 1% of these trans fats.
Yorkshire Rapeseed Oil also contains only half the saturated fat and 11 times the Omega 3 of olive oil. These oils are known as the 'healthy' oils. Rapeseed oil is a great source of Omegas 3,6 & 9, and in the right combination to work together as your body needs them. What are your most popular baking recipes with Rapeseed Oil?
Our current most searched for baking recipes by you are our Best Ever Crumble Topping, and our seasonal fruity Crumble Cake! But our most used recipe here at YRO HQ is our Classic Victoria Sponge recipe made with rapeseed oil. Take the healthier option without losing any of the flavour, make it in minutes and hear the compliments roll in on your light, deliciously moist cake! We love it so much we've popped the recipe in this blog for you.
Where can I find baking with Rapeseed Oil recipes?
Pop over to our website for over 30 recipes to cover your bakes for any occasion. Sweet and savoury treats for all – whether that's filling the lunch box, baking for afternoon tea, or making a showstopper of a bake.
Classic Victoria Sponge Recipe
Serves 8-12
Fill with a combination of your favourite jam, fresh fruit, meringues, whipped double cream or buttercream – make this treat of a cake your very own.
Ingredients
150g Yorkshire Rapeseed Oil
150g self-raising flour
150g caster sugar
3 large eggs
1 tsp vanilla essence
Method
Mix together all the sponge ingredients in a large mixing bowl. When all the ingredients are combined pour into 2 greased sponge tins and bake at 180C until baked through (usually about 20 – 25 minutes – depending on your oven. Once cooked allow to cool and then remove from the tins and serve with your favourite fillings. Simple!